A few months ago, I talked to my family about possibly starting a potted salsa garden (peppers, tomatoes, salsa things).
I really loved the idea of my kids and I creating new life from simple seeds, watching them grow, feasting on the literal fruits of our labor, and adding to my home project of positivity.
Plus, fresh salsa. 🍅
Sounds fun, right?
Well, it wasn't until a couple weeks ago that I actually started researching it seriously.
And I got SO OVERWHELMED. It was just too much to take on in my life right now. I know that sounds dramatic, but I gotta be honest.
So…then I thought, "You know what, maybe I should start with a herb garden first."
And it was only natural that I immediately hopped on Amazon to find something. Because it is known that Amazon has everything.
And I was right. They had many options for herb gardens. But, this thing I saw? THIS THING I HAD TO HAVE.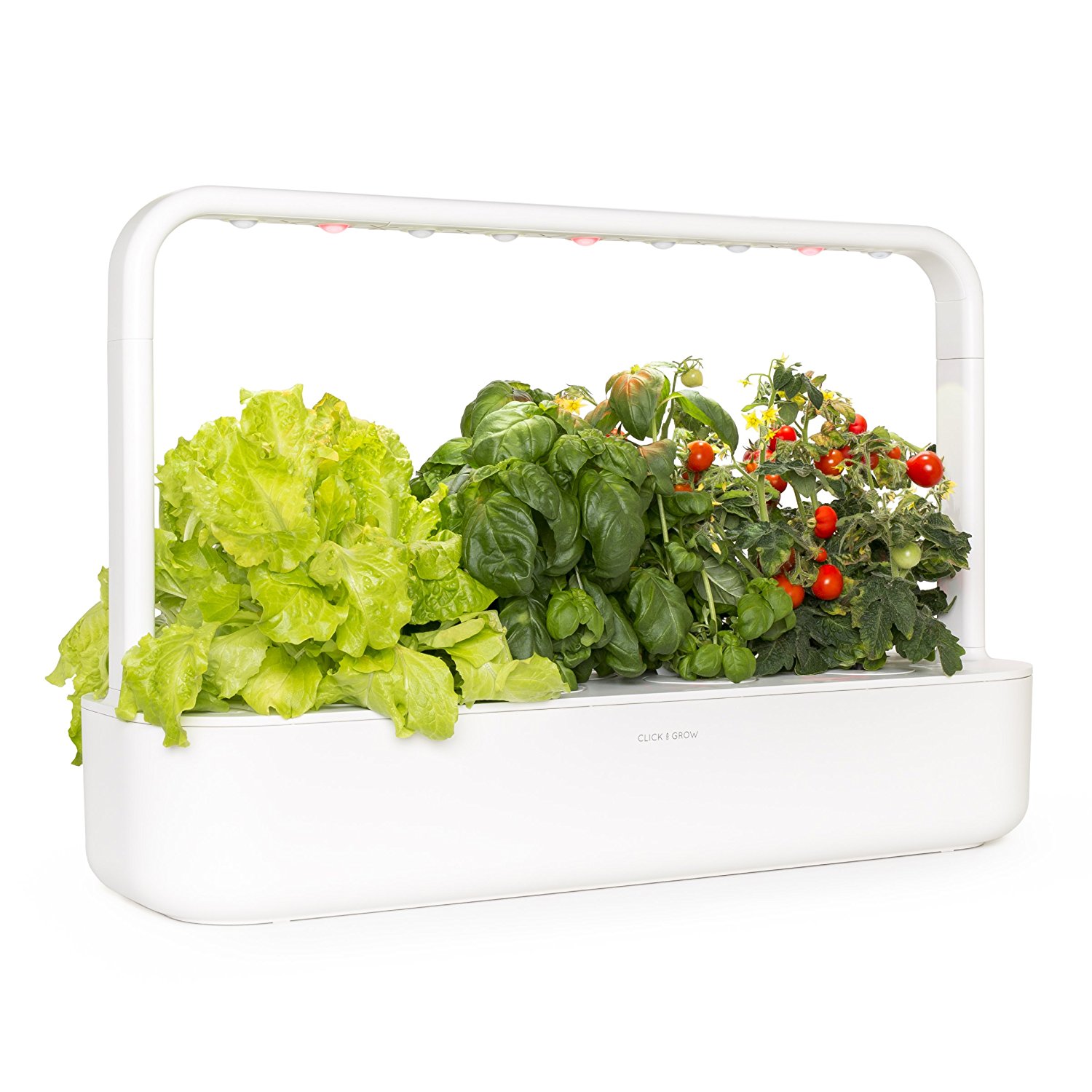 Guys, it's a smart garden. I didn't know I needed it, but apparently, I did.
Here is the Amazon description of this rad "Click & Grow Smart Garden":
GROW YOUR FAVORITE PLANTS ALL YEAR ROUND: Thanks to energy efficient LED grow lights our indoor gardening kits can grow your favorite culinary herbs, salad greens and flowers all year round without you having to worry about weather or lighting conditions. The Smart Garden 9 can grow up to nine different plants pods simultaneously and is the perfect addition to any kitchen counter, windowsill or living room.

NO GMOs, NO PESTICIDES, NO HERBICIDES: Our Smart Soil plant pods use non-GMO seeds and do not include any herbicides, pesticides or fungicides. Because the produce is grown right in your own home, you can rest assured that you're getting the freshest vitamin rich food that doesn't include any harmful substances and hasn't been sitting in a warehouse before finally reaching your table.

WIDE SELECTION OF PRE-SEEDED PLANT PODS: Choose from our selection of over 50 different pre-seeded plant pods or use our seedless pods to grow anything you want. Our wide selection of pre-seeded plant pods includes classic herbs like rosemary, basil, oregano, marjoram and thyme, as well as salad greens and decorative flowers. Our range even includes fruiting plants like mini tomato, wild strawberry and several varieties of peppers.

SILENT AND EASY TO USE: Forget about the noisy pumps, messy bottles of nutrient solution and pH stabilizers that are a part of most hydroponic growing systems. Our plant pods gradually release all the nutrients your plants needs to thrive. Smart Soil automatically regulates pH, oxygen and humidity levels across plants' lifecycles and enables our indoor planters to use a totally silent, passive watering system.

INCLUDES EVERYTHING YOU NEED TO GET STARTED: The Smart Garden 9 comes with a complimentary set of plant pods so you can start growing right away. In the package you will find 3 mini tomato, 3 basil and 3 green lettuce plant pods. All you need to do to start growing is put the plant pods into their cavities, plug in the power adaptor, fill the water reservoir and that's it! You're now well on your way to your first harvest.
When I received it in the mail, I was so excited to set it up, and of course, I shared it on Instagram.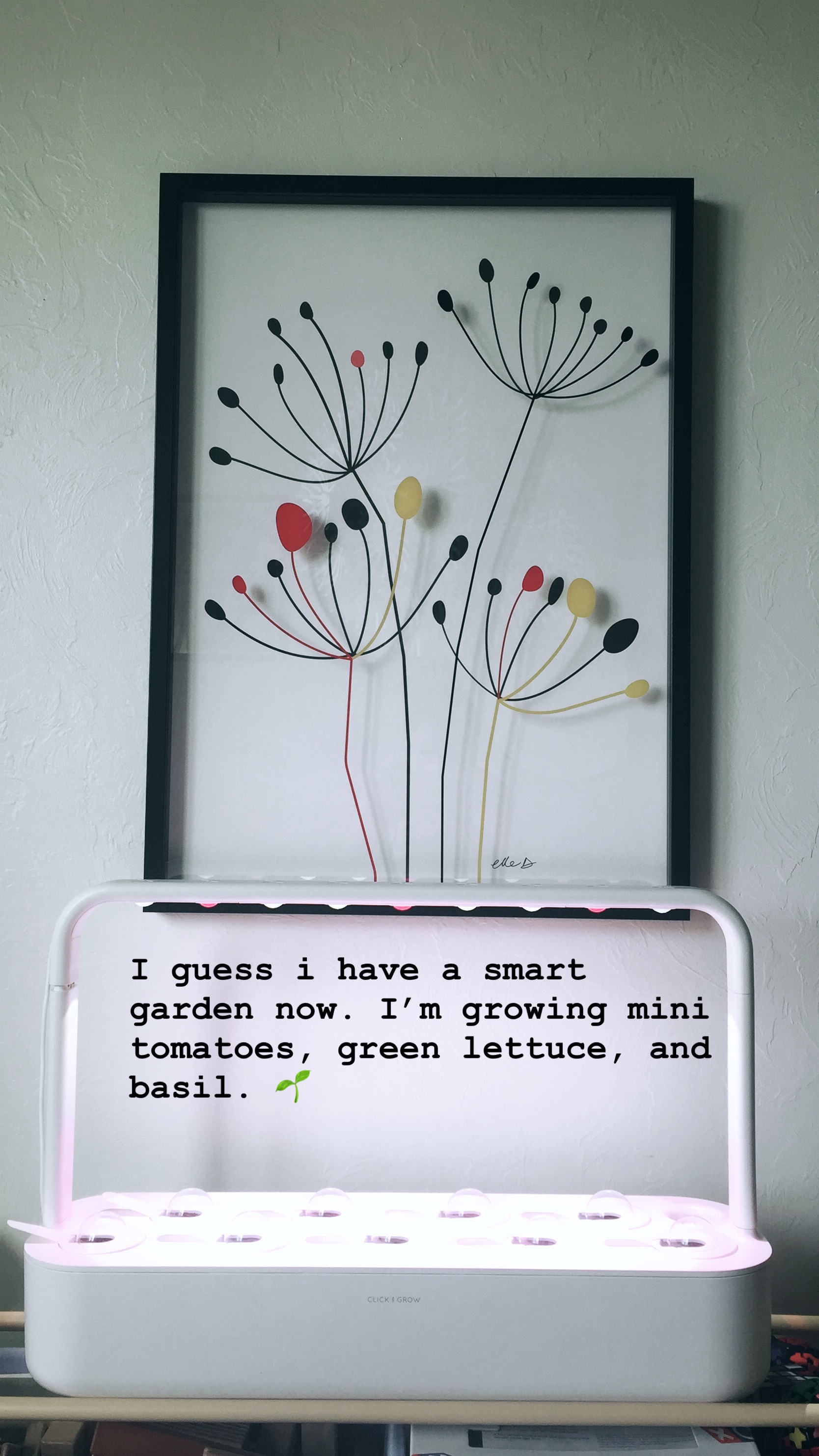 The garden came with mini tomatoes, green lettuce, and basil pods (3 each), which I was super jazzed about because it's salsa-inspired. The lights come on and off when needed, so you don't need sunlight, and once you fill up the water tank, you're good for a couple of weeks or so. In addition, the app to tells you when to water it, because of course there is an app for that.
It's seriously the easiest garden I have ever had.
We saw growth the very next day after setting up. IT HAS BEEN SO EXCITING AROUND HERE!
Check out the garden after just two weeks…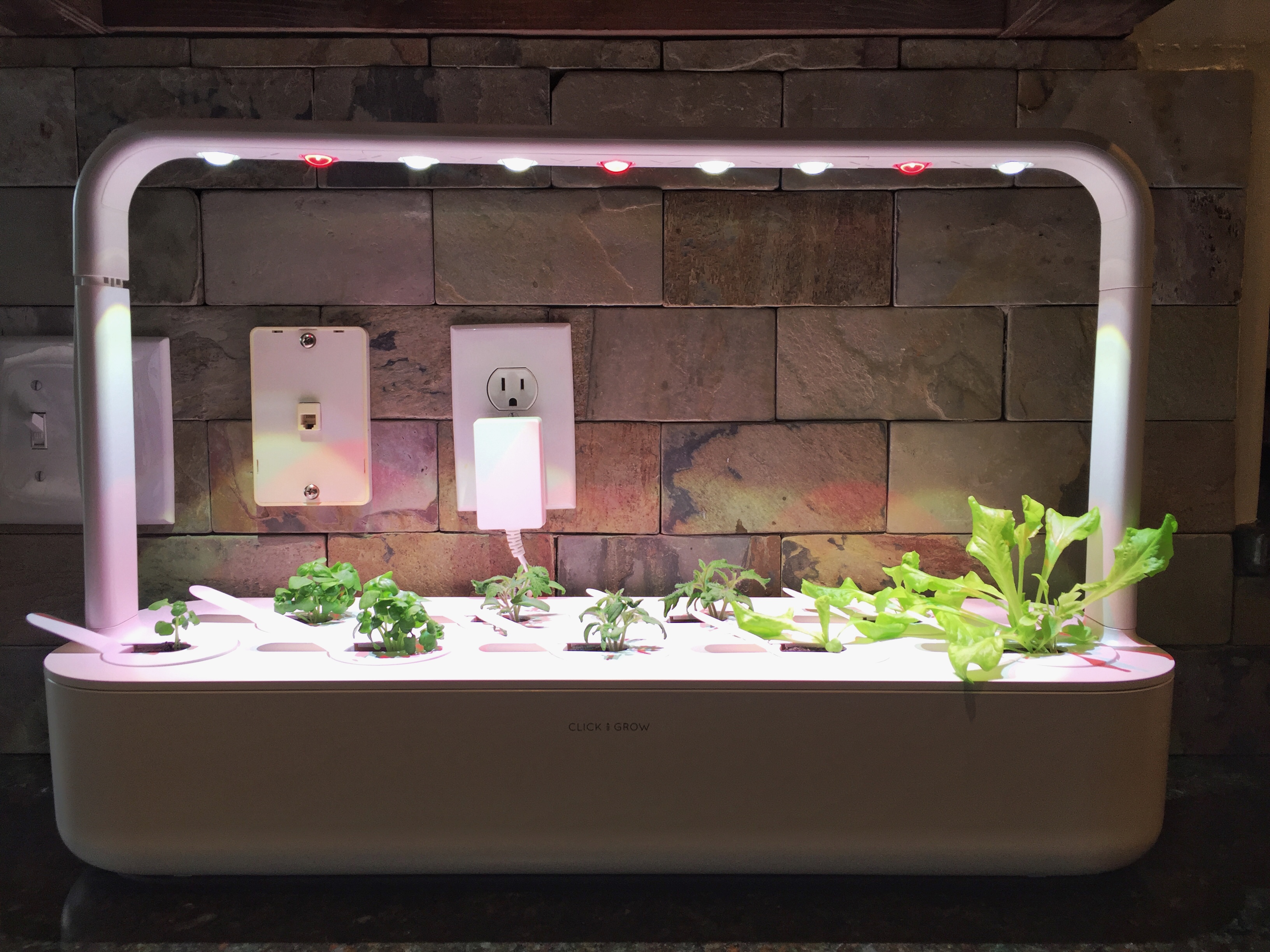 So, the initial set-up is a little pricey, I get it, but this thing really is as advertised and for a busy lady like me, it's PERFECT.
What I don't know yet – how long I will be able to enjoy each plant before it will need to be replaced. I honestly have no idea. It's probably in the instruction booklet, but I was too excited to get that far. But since I have the main unit, the only cost will be to purchase future pods (there are 50 kinds, so I can mix it up, too) on Amazon.
If you're interested in learning more about it, or getting it at your doorstep, check it out here.
disclosure: I used my affiliate links in this post. ✌🏻