I've been dreading this post.
Because this particular section of my "The Art of Tidying Up Negative Energy" project, tackling the master bedroom closet, was not fun at all. AT. ALL.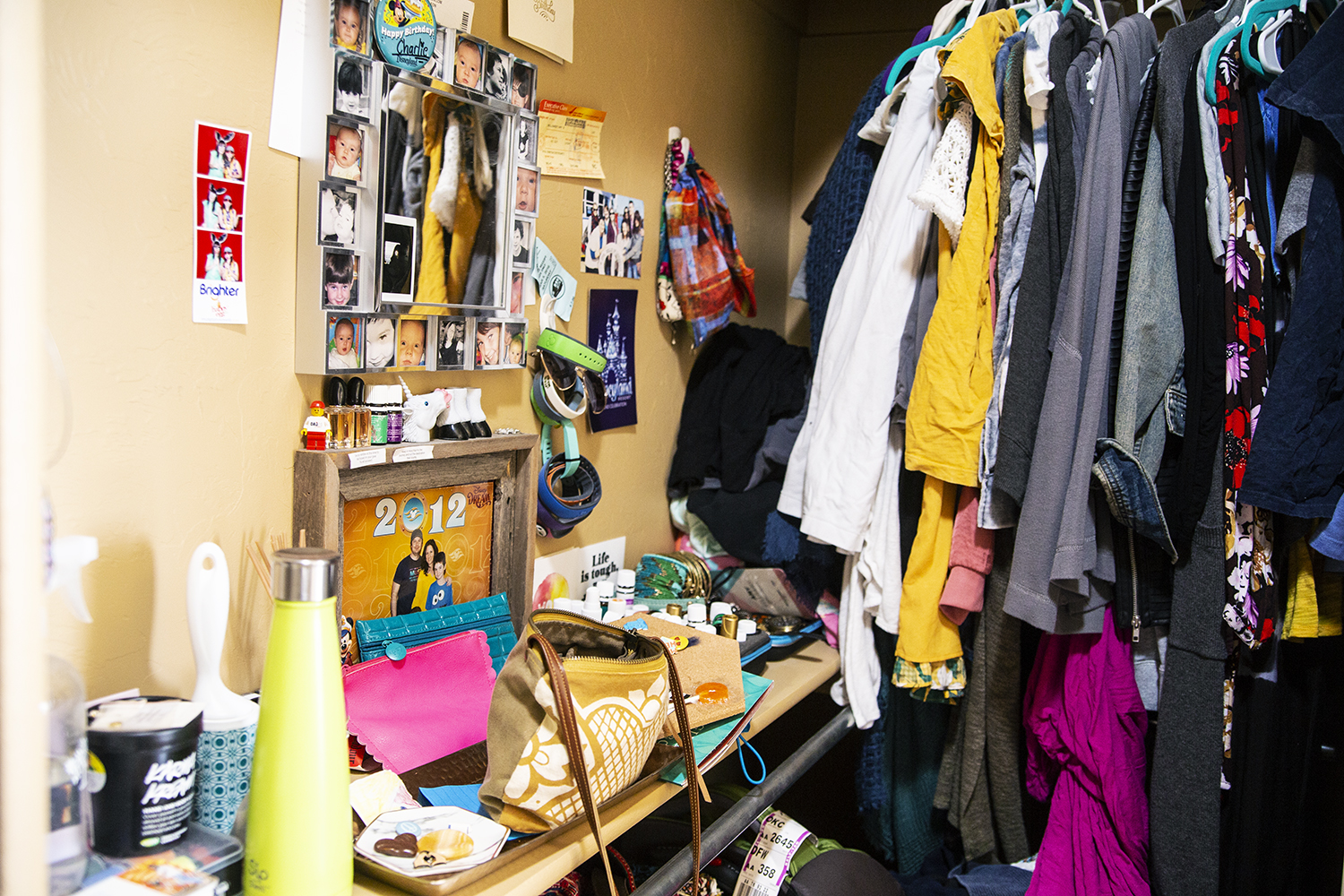 Not only was it full of clutter, dirt, and useless items, but it was chockfull of old memories. Memories I didn't anticipate seeing or feeling. Memories that were healthy for me to experience again, but very, very difficult to see and remember.
In fact, I shared a bit of my stumbling blocks a few weeks ago in a blog post because I was frozen mid-project. You can read why here.
I reached out for help from you, my readers and supporters, and the feedback was incredible.
Like most hard things in life, it was therapeutic to share my struggles openly and with people I trust. It, no doubt, helped push me through the laborious task of physically and emotionally clearing out the space.
Thank you. I did make a decision. I'll get to that in a minute.
Around the same time as "Closet Gate", I also received a book recommendation from a dear friend, Tammilee, called What Your Clutter is Trying to Tell You, and being that I pretty much buy any book that Tammilee recommends to me, I ordered it immediately.
I'm also a book junkie, but let's not talk about more of my issues, k?
It's an easy book to consume, and packed with more depth than I originally thought it would. Kerri dives beyond physical clutter, like emotional and mental clutter, which I appreciated since that seems to be the biggest hurdle in my project. It was a timely read that inspired me to take notice of the clutter in my head and heart while I continue this process.
But, back to the closet itself. I did it. I finished. I even showed it off to friends in person at my birthday party a few weeks ago. What's funny about that is that they had no reference to the before status, but nonetheless, I showed it off anyway.
Let me share a few before photos.
Clothes squeezed in. Shoes I wore once.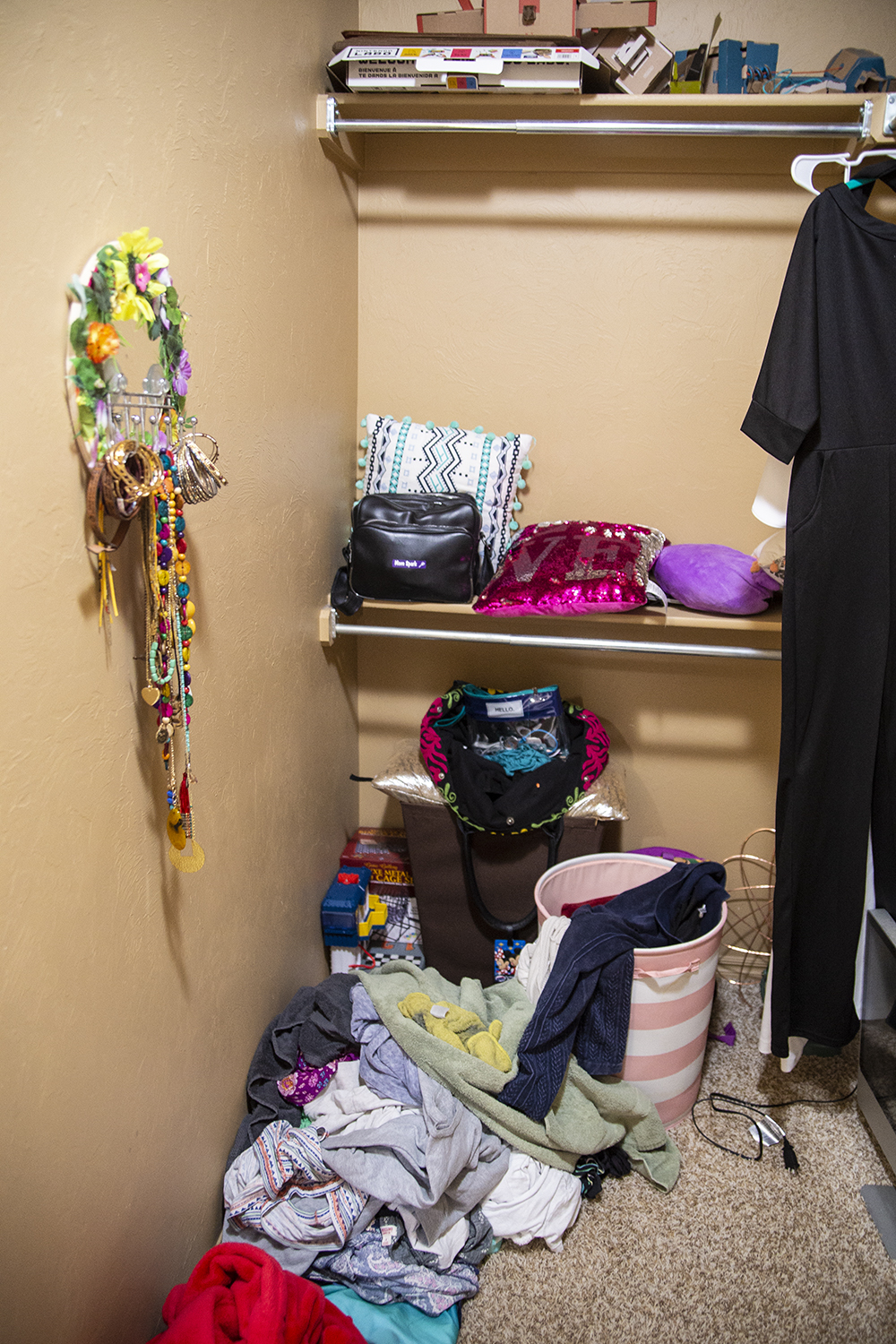 Clutter. Piles. Stuff.
Memories hanging behind the door.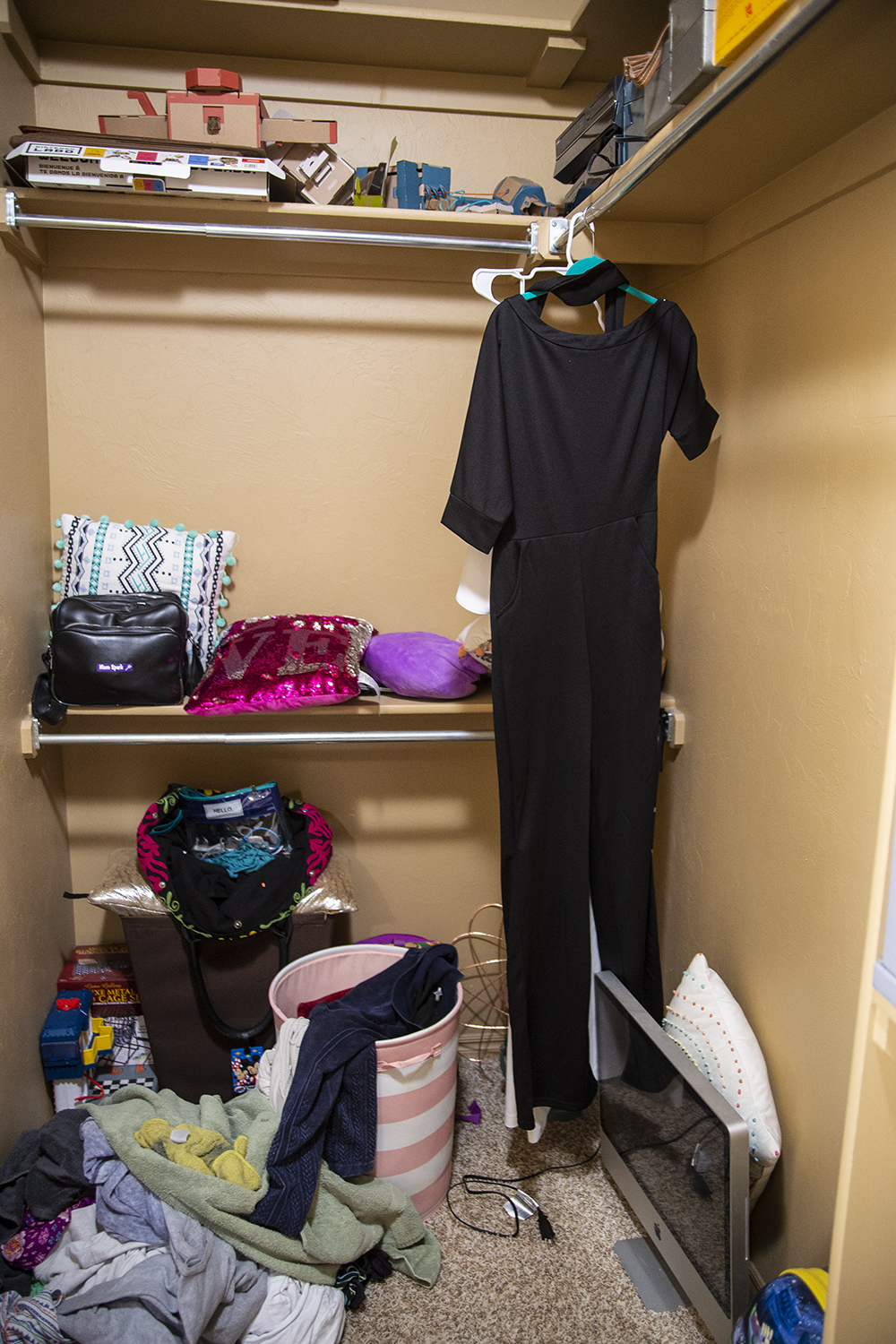 Dark and heavy. Overwhelming.
But then…
the clouds parted.
I purged half of my wardrobe, bagged it up, and plopped it on a local Salvation Army truck.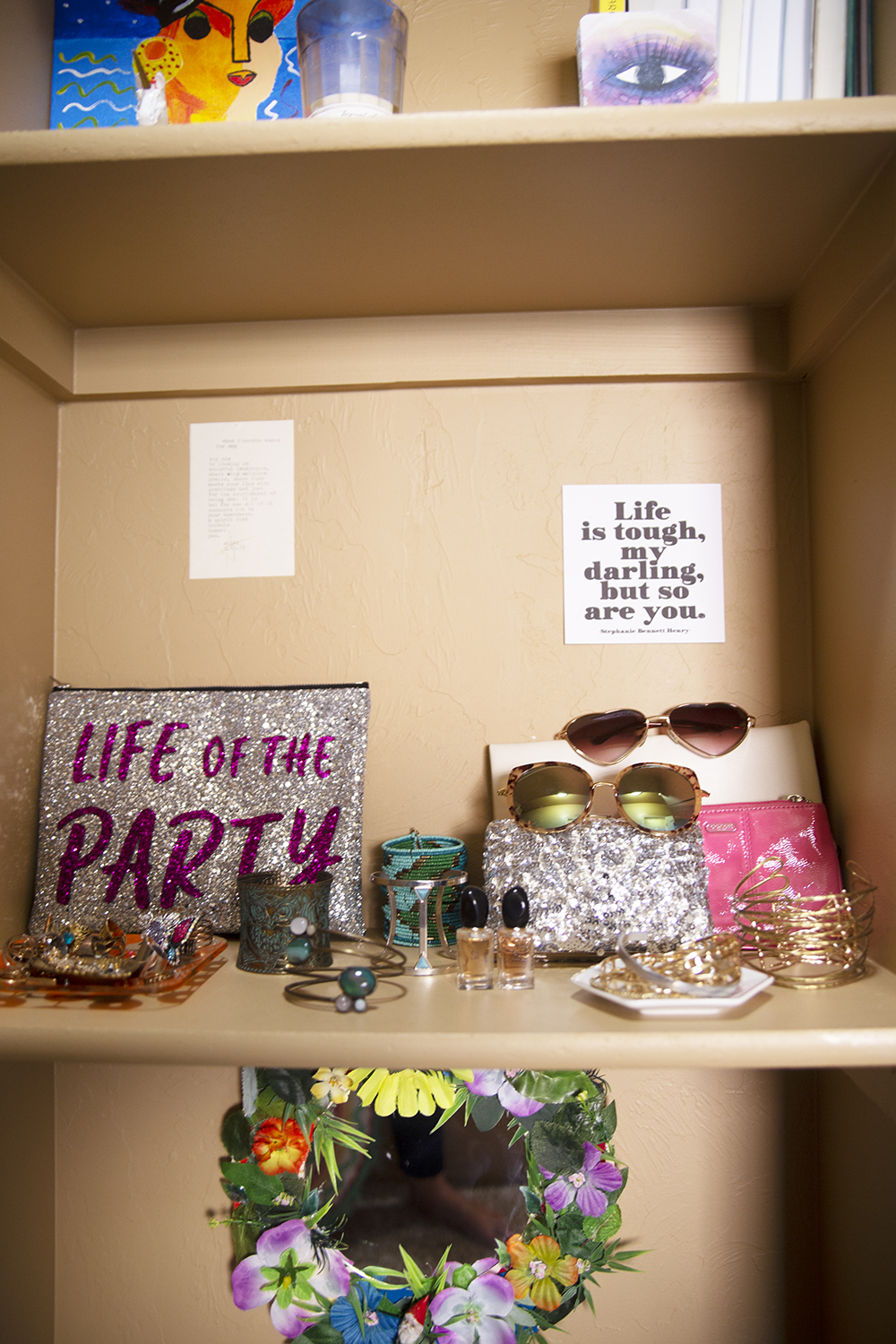 I featured a few of my favorite rings, bracelets, quotes, and bags on the shelves.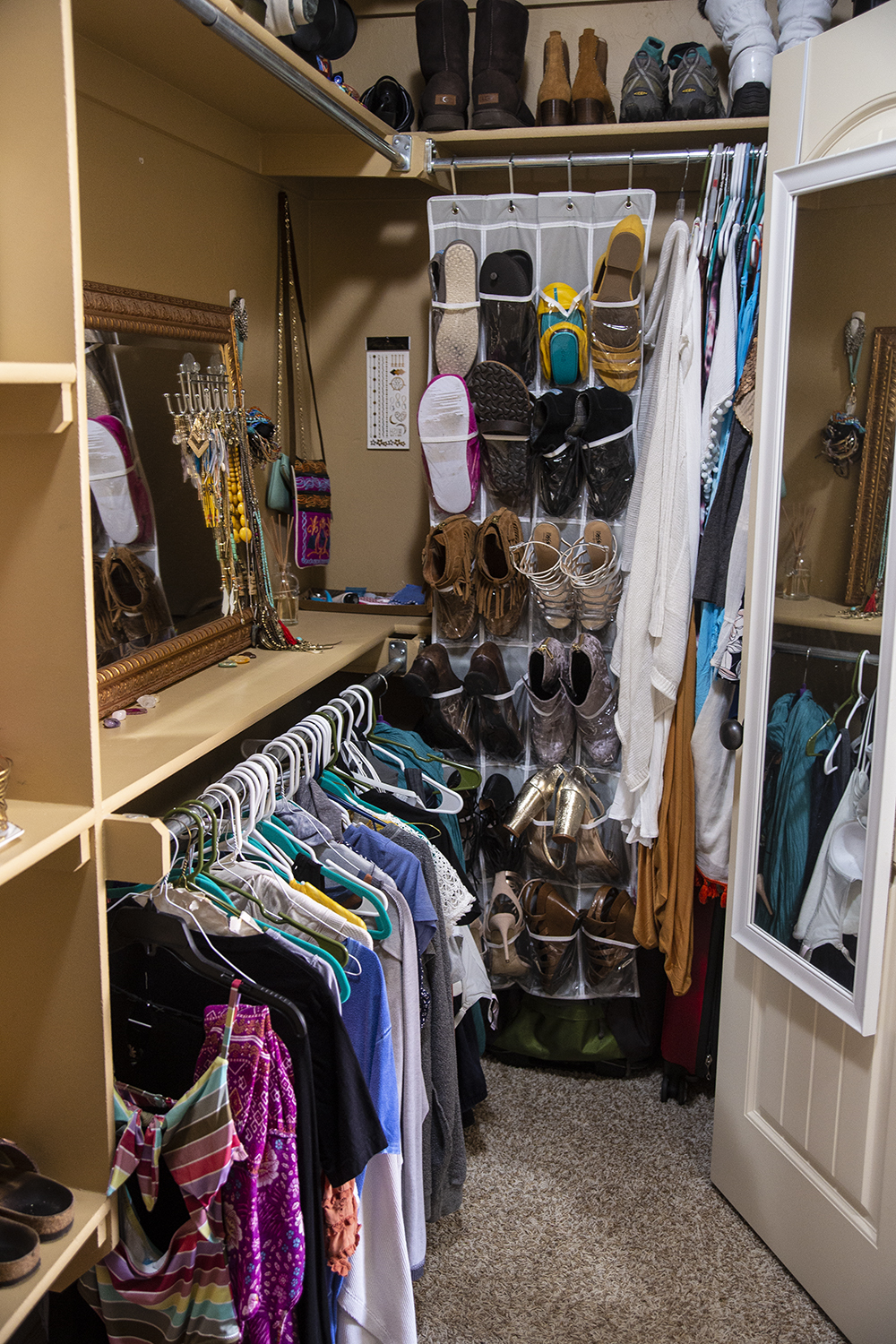 I got most of my shoes off the floor and into a shoe hanger.
I moved a large gold mirror from my foyer into the closet to bring the space to life. I love using this cool suction-cup hook as a way to hang necklaces and long earrings.
This area was transformed into a little makeup station, which I've never had before! And I actually use it daily. Love, love, love.
These fun hexagon corkboards are perfect for my enamel pin collection, don't ya think?
And, apparently, I have a kaftan wall now. They are pieces of art, in my eyes, so I just decided to give them the credit they deserve.
As for my wedding and family photos, I divided them up, gave some to my STBX and the rest in a memory tub to look through at another time. It was emotional. And sad, but it was the best solution I could come up with at the time.
I want to thank you for traveling through this purge project with me. I'm not sure which room is next but stay tuned for the sneak peeks behind it.
My closet is now light, open, bright, cool, and totally welcoming. There is peace, no negativity, and all signs of heaviness have been lifted.
I meditate in there now. I apply makeup in there now. I'm more inspired being in my closet than before. I really do love it, but this closet wasn't originally intended just for me.
And that's when the tears flowed quickly down my cheeks.
Love & Peace.
[book links are my personal affiliate links]