I recently wrote this post on my parenting site, Mom Spark. Who else is ready for Fall?
Fall fashion trends are great. Fashion Week is the bee's knees. But, there are five Fall outfit pieces that never go out of style (at any age) and will last far beyond Fall 2019. These are Fall fashion staples that we should all have in our closets (in multiple styles and colors, of course) to put together an easy, comfy, cozy, and street style-worthy outfit perfect for the cool climate. And I don't know about you, but I am so ready for a chilly Fall!
The best thing about these five pieces is that they can make a Fall outfit all on its own! Of course, they can also be mixed and matched with other pieces in your closet, too, and I'll share some of those outfit ideas as we cover each piece.
I will also provide links to retailer sites, in various price-points, so you can start stocking up on your Fall and Winter collection now.
Get your hot chocolate ready while you shop these looks!
5 Fall Outfit Pieces That Never Go Out of Style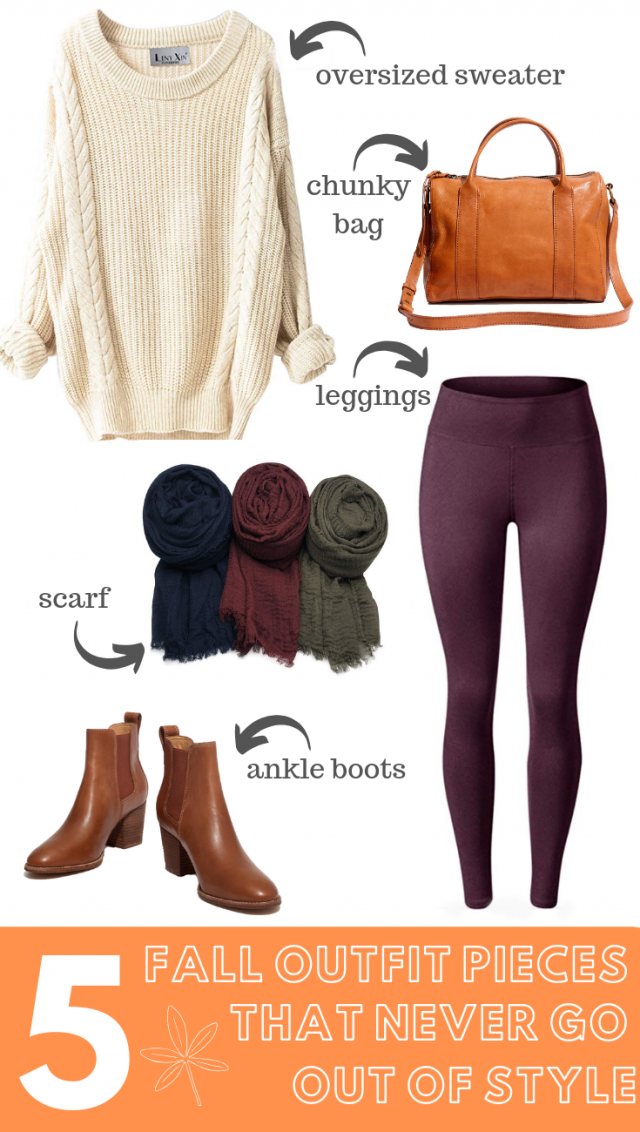 1. SCARVES
Let's start with a basic scarf. I prefer lightweight scarves if I'll be wearing them outdoors and inside, and most can double as a shawl to create a completely different look. Whether you're going oversized or sleek on top, a scarf (in multiple colors and prints) is an essential piece to have in your Fall and Winter collection.
recommendations:
3-piece Soft Lightweight Solid Scarves (9 color bundles) $11.99 via Amazon
Soft Printed Scarves (30 prints) $13.92 via Amazon
Multiple Style Scarves $9.99+ via Target
2. OVERSIZED SWEATERS
The silhouette that we're going for is cozy (oversized) on top and sleek on the bottom. The best way to create that shape is with an oversized sweater or tunic.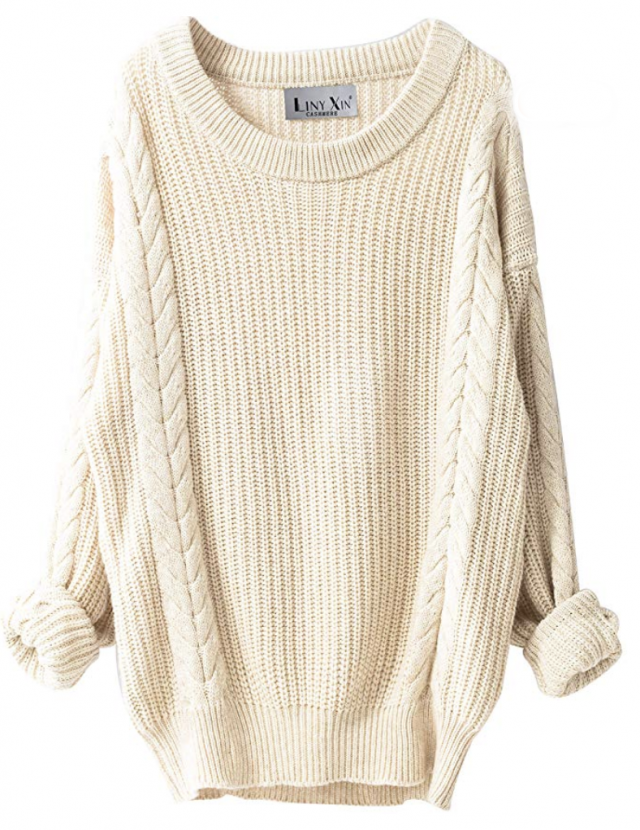 recommendations:
Cashmere Oversized Loose Knitted Crew Neck Long Sleeve Winter Warm Wool Pullover (18 colors) $39.97 via Amazon
Chunky Turtleneck Sweater Long Sleeve Knit Oversized Pullover (13 colors) $18.99-$29.99 via Amazon
3. LEGGINGS
Leggings are a sleek, but comfortable way to lengthen the leg with an oversized top, and you can purchase in just about any color you desire!
recommendations:
Super Soft High Waisted Full Length Opaque Leggings (25 Colors) $8.99-$13.99 via Amazon
High Waisted Fleece-Lined Leggings (20 colors) $11.95 via Amazon
Pull-On Skinny Jean Leggings (5 colors) $29.99-$59.50 via Amazon
🌶 IT UP ⇒ Faux Leather Liquid Leggings (black) $15.99 via Amazon
4. ANKLE BOOTS
I prefer an ankle boot over a knee/long boot because ankle boots are timeless, where some tall boots do look dated. I also believe it created a slimmer, streamlined look on the lower half of the body.
recommendations:
The Regan Boot (two colors) $178 via Madewell
Multiple Ankle Boot Styles and Colors $21+ via Target
Multiple Ankle Boot Styles and Colors
$17+ via Amazon
🌶 IT UP ⇒ Soft Round Toe Elastic Cut Out Stiletto Booties (7 colors) $9.98-$40.15 via Amazon
5. CHUNKY BAG
The pull the whole look together, a good chunky bag is an answer. A bigger bag can hold your scarf and other Fall and Winter gear as well, so not only is it cute but it's functional!
Vintage Genuine Leather Tote Shoulder Bag Handbag (nine colors) $49.99 via Amazon
Leather Crossbody Satchel (two colors) $37.99-$41.99 via Amazon
Now that you have your 5 Fall outfit essentials, you can mix and match them to your heart's desire! The key it to keep the silhouette!
Other basics you need for your Fall and Winter collection:
*the blog post contains affiliate links